Elisabeth N. Galligan, APR, ATM-B, CL
Founder/President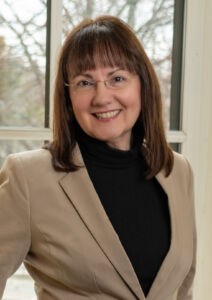 Betty is accredited by the Public Relations Society of America. Her philosophy of client service is based in part on the Society's Code of Professional Standards and "do good work, clients will follow." Prior to founding Newberry, she was vice president of a Providence-based agency. Previously, she worked for several small and medium-sized agencies in Rhode Island and Massachusetts where she developed strong skills in all facets of public relations, copywriting, print production, and account management. She holds a bachelor of arts degree (1986, cum laude) in communications and theatre from Rhode Island College (Providence). Her academic and subsequent professional achievements led to her listing in college, business and international Who's Who directories and to be an Alumni Honor Roll award recipient for the Communications Department of RIC. Betty is a twice-past president of PRSA's Southeastern New England chapter and has served as national assembly delegate, strategic planning and public relations committee chair for the chapter. She is current president of the Association of Marketing Professionals-Rhode Island, past chairman of the board of the East Providence Area Chamber of Commerce, a past president of the board for Literacy Volunteers-R.I., twice past president of East Providence/Seekonk Rotary Club and current Assistant Governor and Public Image Chair for District 7950, past Board of Governors chair and communications committee chair for the Hope Club, a member of the prestigious national PRSA Counselor's Academy, and a twice-past president of East Bay Toastmasters Club. She has earned the Advanced Toastmaster-Bronze (ATM-B) and Competent Leader (CL) designations from Toastmasters International. She was recognized by Providence Business News as a Leader and Achiever (2021) and Achievement Honoree (2011), and was honored by the City of East Providence in 2023 as a Remarkable Woman. She is a published author of business/humorous articles in national periodicals, a public speaker and seminar leader on various topics, and an award-winning copywriter.
Candace Brooks
Creative Production Manager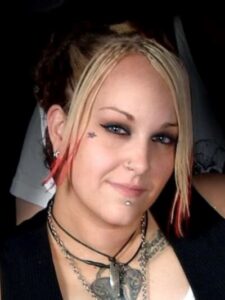 Candace is Creative Production Manager at Newberry PR and Marketing, where her responsibilities include project management, vendor relations, creative direction, and scheduling/trafficking for the public relations and marketing departments while supervising NPRM's robust internship program and manages human resources, professional development training, and information technology for the agency. Heading up the Podberry Division of NPRM, Candace serves as creative director, sound engineer and producer for all podcast recordings in our Pawtucket podcasting studio. Candace earned an associate of arts degree in Human Service Management, a bachelor of science in Psychology, a diploma in Advanced Graphic Design, and is Advanced WordPress Certified. Candace has nearly 25 years of experience in customer service and web design and is proficient in Adobe Photoshop, Adobe Illustrator, Adobe InDesign, Procreate, Premiere and Constant Contact.
In her free time, Candace is a singer/songwriter and serves as the front woman of the multi Grammy-nominated "The Candace Brooks Band." Other musical accomplishments include Motif Music Award nominations in the categories of Best Female Vocalist for three consecutive years, Band of the Year, and Album of the Year in 2008. In 2009, the band had nominations in the categories of Best Live Act, Best Album by Group, and won Band of the Year and Best Female Vocalist at the Limelight Magazine Music Awards.
Nolan Wills
Account Coordinator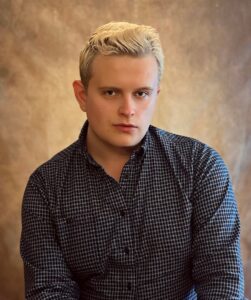 Throughout his time at the University of Rhode, studying under The College of Business as a Textiles, Fashion Merchandising, and Design major, Nolan pursued real-world experience between his interests in the creative realms of fashion and publishing. It was the different experiences within these areas that led him to discover that marketing and communication were areas of both intrigue and budding strength. In late 2016, an early interest in photography culminated with winning an international photography contest organized by the luxury Italian fashion house Versace, called "7 Bags for 7 Cities." His original photo of the Empire State Building was selected and used to promote their new line of "Palazzo Empire" handbags. The brand also selected Nolan's photo as the basis for one of seven limited edition custom bags, which was exclusively sold at all New York City Versace flagship locations. Inspired by the exposure to the fashion scene in Milan via the contest, Nolan went on to work and internship at local fashion, lifestyle, and news publications. For the next few years, Nolan worked as a graphic designer and creative director of a local boutique modeling agency's biannual online fashion magazine, StyleUp. In mid-2019, Nolan went on to fully dabble in journalism, writing lifestyle articles and interviews for Newport Life Magazine, Newport Weddings Magazine, and Newport Daily News. From late 2019-2021, Nolan worked for Newport, Rhode Island-based Loren Hope Designs as their Marketing Coordinator, working closely with the ultra-feminine, high-end costume jewelry brand to create original content. During his employment, Nolan wrote copy for products, blogs, and social media, became proficient in utilizing Shopify, and helped successfully market and sell over a dozen capsules and seasonal collections containing countless branded bijoux products and home accessories. After an enlightening summer internship with Newberry PR and marketing, Nolan officially joined the team as Account Coordinator in 2022, a role that equally straddles marketing and public relations. Within this role, Nolan works to assist clients and account executives by scheduling and attending client meetings, coordinating client approvals, tracking/reporting media coverage, researching industry trends, preparing information for the media to promote clients and continuously update our agency executives, production department, and clients on project status.

Meet Our Mascot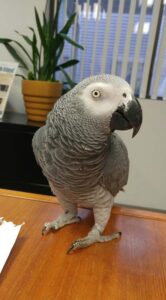 Our mascot, Einstein, is an African Grey parrot who enjoys visiting the office and vocalizing. He particularly enjoys making the phone ring sound, saying "Yankees Suck," laughing and causing trouble at office meetings!